January 20, 2019, Addison, TX. Around 45 Dallas Hindu leaders and community members participated in a luncheon to welcome HSC's National Team during the Martin Luther King Jr. weekend (Jan. 18-20, 2019). HSC held its Annual Leadership Meet in Dallas to induct new team members and also strategize plans for the upcoming semester.
The luncheon, hosted by prominent Hindu community leader Shri Sashi Kejriwal, provided a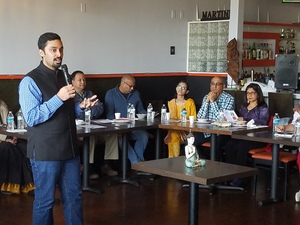 wonderful opportunity for HSC to share its work and impact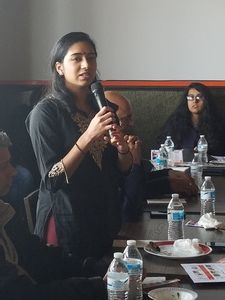 with the Dallas community and seek their support in carrying out its mission. After a brief welcome by Sashiji, HSC president Parth Parihar provided an overview about the organization and its work on college campuses. Parth stressed how HSC has become a home a way from home for many Hindu youth who yearn to stay connected with their tradition and practices while on campus. He also shared how HSC has had over 200 world renowned personalities on its forum since its birth in 1990. Following Parth, some of the new leadership team members delighted the audience with personal stories of why they joined HSC and why HSC is important on college campuses. Maithreyee Kale, former president of HSC at Stonybrook University in New York, shared how HSC's work has impacted her while on campus, and how the National Team is supporting their ef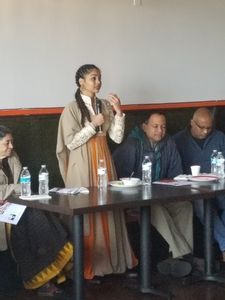 forts to have a permanent Hindu prayer and cultural space on campus. She also discussed how she received her university's leadership award due to her work in HSC.
Hailini Patel, a recent graduate and former president of HSC at University of Illinois Urbana Champaign, recalled her experience on campus. She shocked the audience by sharing how the local Indian Student Association refused to allow traditional Navratri Aarti to be held during the Garba festival due to "secular" reasons and from fear of "offending" other non-Hindus. After repeated attempts to convince the ISA board, Hailini and a few of her friends boldly held the Aarti right outside the ISA celebration! This experience moved Hailini to start a HSC chapter on campus with her sister Riddhi's support since Riddhi was president of HSC at University of Illinois Chicago and had recently joined the HSC National Team.
Continuing with additional experiences, Aditi Bhatia, a graduate student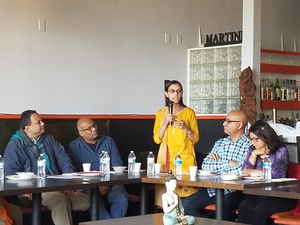 at the University of Toronto and a recent member of the HSC National Team, elaborated on her efforts in Canada. Aditi, who comes from a family of devout Hindus, shared how she wanted to stay involved in Hindu activities with people of her age, and that she was very happy when she learned about the HSC National Team during the World Hindu Congress. She discussed how, just like the US, Hindu youth in Canada also face multiple issues from a general apathy to Hindu practices, to anti-Hindu prejudice to outright misconceptions about Hindu Dharma. She recalled how one of the HSC chapters that she knew started to go off track and hold "Desi Pub Nights" in order to appear more "secular" and attract greater membership. She and the National Team have since been working hard to educate these students about HSC's mission and activities in order to ensure that such things don't repeat in HSC.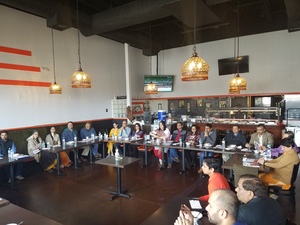 As the program came to a close, many community members and leaders such as Shri Kalyan Viswanathan, Shri Srinath Chakravarty and others got a chance to share their thoughts and provide advice to HSC on many different topics. Some of the community members pledged to help HSC financially, while others pledged to help start additional chapters or help with resources such as speakers, materials, etc.
HSC is tremendously thankful to the Dallas Hindu community and Sashi Kejriwal for their generous support and hospitality.