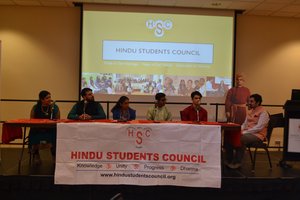 March 2, 2019. University of Maryland, College Park. HSC held its third Drishti Conference at the University of Maryland, College Park, on Saturday, March 2nd, 2019, attracting students and alumni from eight different universities in the Northeast. Drishti provides a platform for Hindu youth to talk about their experiences as Hindus growing up in the West, how they practice their Hindu traditions on campuses, and some of the challenges that they face around Hindu identity.
Simran Kishore, the president of HSC's UMD chapter, opened the conference by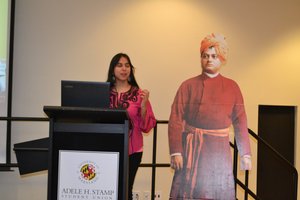 welcoming all the attendees and thanking them for their efforts to join her and her chapter members at Drishti. She provided a brief background of UMD's activities and how the chapter is meeting the needs of Hindu youth on campus. Following Simran, HSC president Parth Parihar, gave an overview of the conference and why HSC decided to start them a couple of years ago.
Parth then invited students and alumni from UMD, Rutgers, City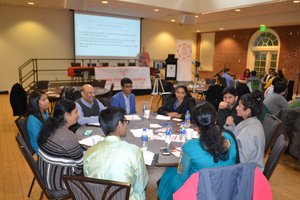 College of New York and John Hopkins to join him on the panel "What does it mean to be a Hindu?" Each panelist talked about his or her experiences in their households and then in college – from different styles of Pujas, to learning different scriptures and stories, to practicing yoga and meditation, to battling bullying and misconceptions about Hinduism, etc. Students then broke out into multiple groups for a lively discussion around the panel's themes and points. Each group also had a senior community member or a HSC National Team member to facilitate and guide the discussion.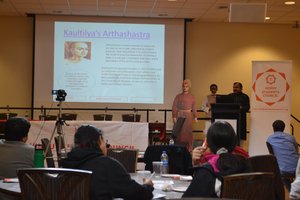 Following the student panel and discussions, Venkat Subramanian, a Trustee of Sri Siva Vishnu Temple and founder of Angarai Foundation, gave a keynote speech on "Contributions of Hindus." From ship building to plastic surgery, to mathematics and science to ethics and economics, to Yoga and Ayurveda, Venkat ji provided an engaging overview of the accomplishments of ancient Hindus and encouraged Hindu youth to delve deeper into our historical past. Venkat ji also shared how such ancient contributions are known to the world but not fully acknowledged as Hindu and that it was our duty to ensure that our ancestors and ancient scientists get due recognition in the society at large.
After Venkatji's presentation, Parth provided a short overview about HSC as an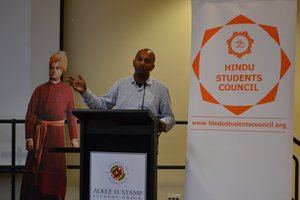 organization and the impact that it makes on the youth. This was then followed by a talk by former Assistant Attorney General of Maryland, Thiru Vignarajah. Thiru ji brought a unique perspective of his Hindu identity – he grew up in Baltimore to immigrant parents from Sri Lanka, who were initially not welcomed in the primarily African American neighborhood; and yet, his father persevered to become a nationally recognized school teacher, all while staying close to his Hindu identity. Thiru ji also touched upon how he uses his Hindu roots and teachings in public service.
The afternoon session, moderated by HSC Chairman Nikunj Trivedi, featured a panel of community members Jay Kalathil, founder of Mukthi Yoga and Jahnavi Sankhla, author of "The Yoga of Eating Great and Losing Weight". Both the panelist touch upon practical advice for students on how to balance their Hindu identity with the ongoing pressures of college life. They discussed how various paths (e.g. Bhakti, Jnana, Karma from the Bhagavad Gita) can provide stability of mind and a roadmap to live a life of harmony while also ensuring success in studies and in careers.
The students then participated in two intense rounds of a Hindu-themed Jeopardy and the winning team received free Drishti T-shirts as memorabilia.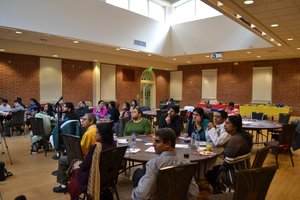 As the conference concluded, HSC General Secretary Arnav Kejriwal thanked the UMD team as well as the community members for their support and sponsorship, and remarked how Drishti continues to become popular for having conversations around Hindu identity on college campuses. In fact, as Arnav noted, there is a serious need for such conferences and discussions – there are so many Hindu students on college campuses and there is a need to educate peers about Hindu heritage.
"Drishti was an inspirational day that allowed members of the HSC community to come together and discuss commonalities within our Hindu identity," remarked Simran Kishore. "We were able to share stories about our daily experiences and offer suggestions to improve our way of life. Personally, I felt a huge sense of pride and I learned about various aspects of Hinduism that I hope to share with the UMD community."
Other attendees also felt inspired like Simran. Maithreyi Ravula, a sophomore at Rutgers University in New Jersey, traveled all the way to the UMD to attend the conference and be on the student panel. Ravula shared: "When I saw people from different backgrounds join together to speak about a common identity, it changed my life. It is an event that extends a beautiful bond between Hindus in America."
HSC also announced plans to have Drishti conferences at University of Illinois Chicago and Boston University during Fall 2019.